Sixth Generation Nike Tiempo Genio II FG Budget Boot
Not everyone can afford top-end boots, especially from big name brands like Nike. This is the lot of professional footballers or those who can afford it. Well, for everyone else who wants to buy Nike boots for a reasonable price, but with excellent quality, there is also a way out – the new Nike Tiempo Genio II FG, which will be ideal for training on hard fields with natural turf. Despite the affordable price, these boots are made of extremely high quality and are suitable for those who do not see a special point in overpaying for innovative sports technologies, but loves old-school football shoes.
The main features of the model
The Nike Tiempo has been around for years, so everyone is already familiar with them, so we can only point out the features of the new line of the sixth generation of leather boots. The budget model Genio II is different:
a boot top made of genuine cow leather, which is characterized by special softness, durability, moisture resistance, as well as the ability to provide a comfortable fit;
synthetic back with a hard back to secure the leg;
soft lining made of breathable textiles, which has a soft padding on the collar of the boots;
classic symmetrical lacing;
glued-in high-density EVA insole;
optimized symmetrical tongue design.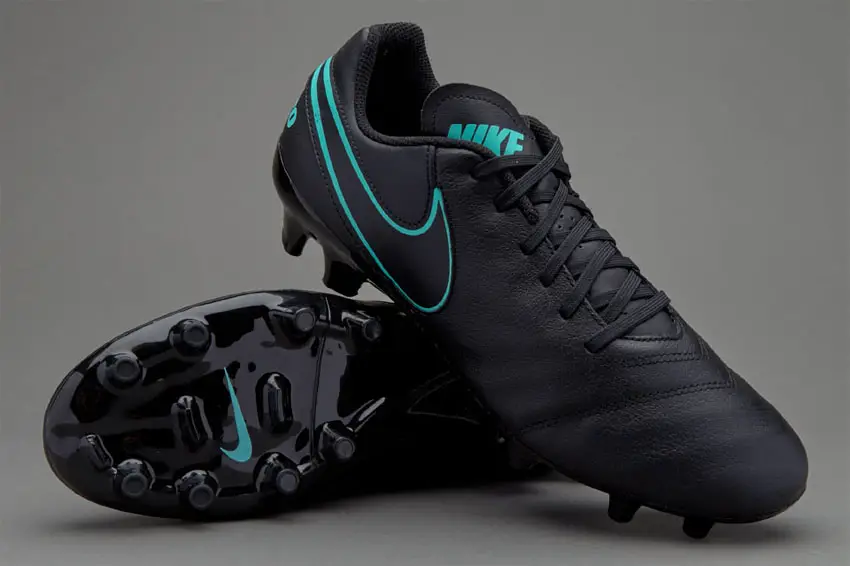 As you can see, everything is pretty good for a budget model. Yes, there are no innovative technologies that Nike is now introducing into its top models, but they are not particularly needed to provide the player with comfort and protection during the game. These Nike boots are very durable and ready to get the most out of every penny you invest in them.
Sole
As for the outsole, everything is top class – it is absolutely the same as in the most expensive Tiempo versions. This suggests that the Genio II has a durable and flexible TPU outsole that features tapered and flat studs. But there is another trick here: the cleats are strategically correctly distributed over the necessary zones for optimal grip on the playing surface. This provides not only good grip on the field, but also the ability to play safely and control the ball at all speeds.
The Nike Tiempo Genio II is also available with futsal and artificial pitch (centipedes). It is also worth noting that these boots are suitable for players with both regular and wide feet, and their low price will attract the attention of all amateurs who want to play in really reliable and comfortable football shoes.