The Nike Tiempo is one of our editors' favorite boots, which is why we are in awe of the new additions to this collection, as we consider all new items, with the exception of a few, to be very successful. Today is just the case when the fresh release of the fall of 2018 can be called very successful. We want to introduce you to the new Nike Tiempo Legend VII Elite Pro Football Boot that will definitely surprise you.
Strict image
Despite the fact that 2018 is nearing its logical conclusion, this novelty still retains its classic and in places strict silhouette from model to model, which makes us very happy. This can be seen both in the design itself and in the design. Even the colors of the Nike Tiempo Legend VII Elite are either classic one-color, or a combination of the most popular colors, without any bright and too colorful styles, in which Nike can be especially sophisticated.
Our today's hero of the review pleases with its manufacturability. The upper of the boot is made of very soft and elastic kangaroo leather. This premium material is very lightweight yet strong enough to withstand heavy loads and maintain the original shape of the shoe. Under a thin layer of leather, a special lining made of Fitmesh material is traditionally used, the main task of which is to prevent stretching of the leather and maintain the stability of the entire structure of the upper.
There is also a seamless Flyknit material, from which the tongue and the inside of the heel are made, which forms a kind of sock that perfectly fixes the foot and, due to its adaptive properties, provides it with a comfortable fit. Also, the lacing with integrated Flywire threads acts as a lock, which allows you to cover the midfoot, which already saves with sudden starts or movements.
Of course, the standard remains a firm fixing heel, a reinforced toe box and a cushioned insole that acts as a shock absorber. The novelty literally envelops the foot, fully taking its shape and is ready to repeat all its movements, maintaining comfort even during the most dynamic game.
Sole
The Nike Tiempo Legend VII Elite features a HyperStability tech outsole made from Pebax material. It is an extruded nylon with a unique overlay that together creates a structure with good flexibility and stability. The outsole weighs practically nothing, so it does not weigh down the overall structure, and the thoughtful configuration of the studs ensures reliable contact with the lawn for all types of movements.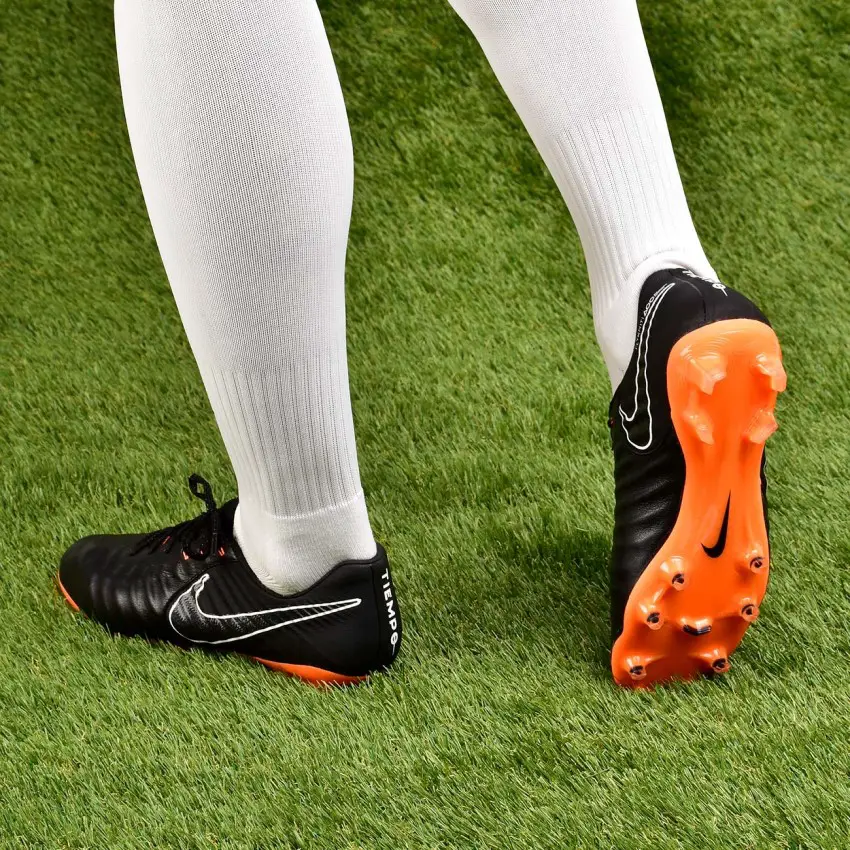 Our verdict
The next generation of professional boots is frankly delightful. The Nike Tiempo Legend VII Elite has managed to maintain its signature style, high quality and added in terms of technology to meet the requirements of the best players. We definitely recommend this model to our readers who rely on the speed and reliability of their gaming shoes.