Today there will be a review that is not quite typical for us. We want to show our readers what football players are like in life. Many people have a typical idea of ​​girls in big football that they are rude, ugly and have a "masculine" physique, we today will scatter to smithereens.
So, are you ready to see the fairer sex who amaze not only with their beauty, but also with their skill on the field? We have selected the best representatives of domestic and foreign football, which everyone should know about. Well, let's start!
Liana Bochkovskaya
Ukrainian footballer who has shown herself well in Kazakh football. The player of ZhFC "Astana" born in 1992 has not only natural beauty, but also an excellent vision of the field, as well as an attacking mood.
Links to social profiles: https://vk.com/l.lianchik92 and https://www.instagram.com/liana_33_/.
Jonel Filigno
Football players are different, and this is confirmed by Jonelle Filigno Hopkins, representing the Canadian national team and the Sky Blue FC club. Adidas ambassador, happy wife and two-time Olympic medalist.
Links to social profiles: https://www.instagram.com/jfiligno16/.
Lauren Sesselman
Another hello from Canada. Not only football, but also fitness is already involved here. Lauren plays for her national team, but also runs her own fitness school. And he leads her very well. This did not stop her from getting bronze at the London Olympics in 2012 and at 34 she looks just gorgeous.
Links to social profiles: https://www.instagram.com/lsesselmann/ and https://www.facebook.com/LaurenSesselmann/.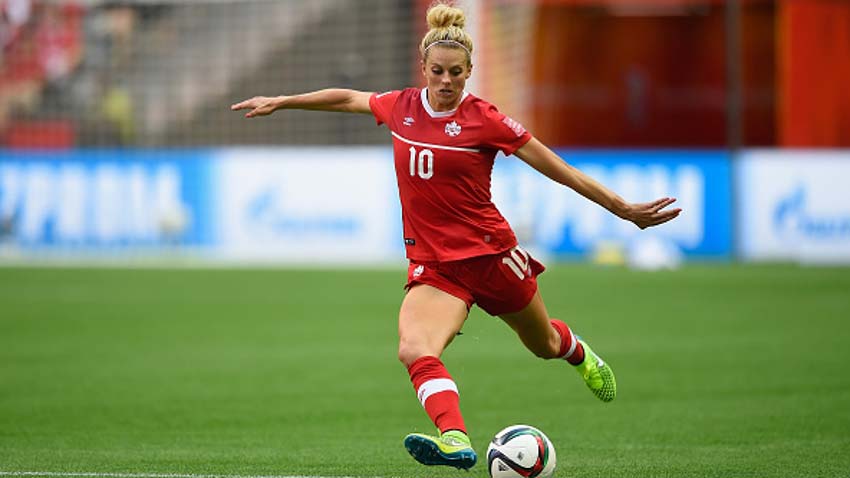 Anouk Hoogendyk
Ajax's defense feels quite solid when Anouk enters the field, having played more than a hundred games for the Netherlands national team. The Dutch women's soccer legend, who retired in 2015, is now Nike's ambassador, and is keeping fit at 32.
Links to social profiles: https://www.instagram.com/anoukhoogendijk/ and https://www.facebook.com/hoogendijk/.
Laura Bulleu
There are some football players that everyone knows thanks to extensive advertising campaigns. The player of the women's PSG and the French national team is known not only for her conquests on the football field, but also for her active participation in the filming of various advertisements. The beauty is always under the gun of sponsors, so she often flashes on TV screens and on the network.
Links to social profiles: https://www.instagram.com/laureboulleauofficiel/ and https://www.facebook.com/laureboulleau/.
Selina Wagner
But this girl not only had to win the women's Champions League twice, but also starred for Playboy magazine, and that already says something. The German national team player has achieved a lot during her football career, so she can try herself in the role of a model.
Sydney Leroux
An American woman, who comes from a family of athletes, the wife of a football player who became the reason for his (already, perhaps, complete) retirement from big football. Played for FC Western New York Flash. The girl has a model appearance, which, in fact, earns money when family life interferes with the intensive preparatory process.
Links to social profiles: https://www.instagram.com/sydneyleroux/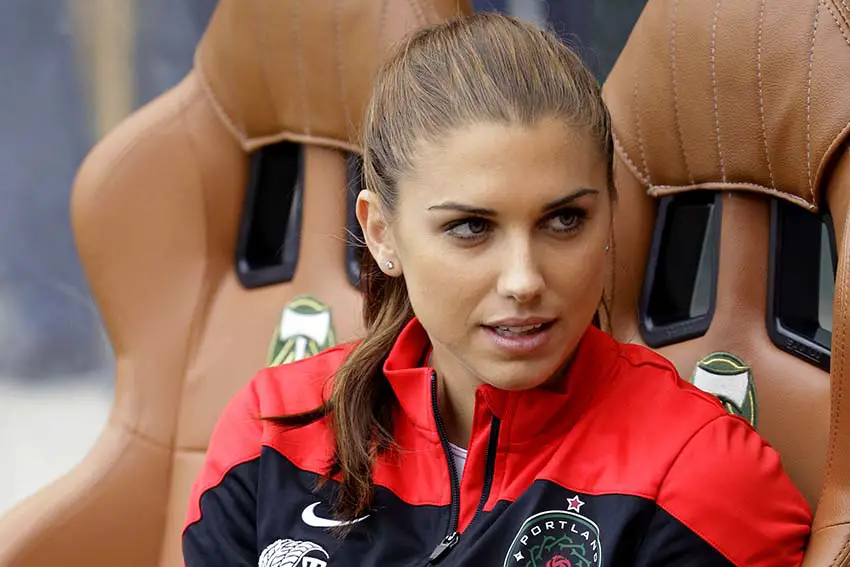 Kosovar Aslani
If you know Zlatan Ibrahimovic, then this is his female counterpart. She plays for the Swedish national team, played for PSG and is now successful in Manchester. Not United, but City. Silver medalist of the Olympiad in 2016. By the way, the girl plays at a very decent level and scores a lot, so she can resist the professionals from men's football. She certainly has enough obstinacy and skill!
Links to social profiles: https://www.instagram.com/asllani9/ and https://www.facebook.com/KosovareAsllaniOfficiell/.
Hope Solo
A tricky thing. If there are any football players with a difficult character, then Hope will definitely lead their rating. A girl with a difficult fate has become one of the most recognizable persons in women's football. The goalkeeper of the USA national team managed to win the Olympics twice and even the World Championship. She was kicked out of the national team for harsh criticism of the coaching staff, caught on doping, she fought with relatives, gave scandalous interviews, became a victim of a hacker who posted her most intimate photos to the network, and much more. In general, you will definitely not get bored with her!
Links to social profiles: https://www.instagram.com/hopesolo/ and https://www.facebook.com/hopesolo/.
Alex Morgan
And finally, we want to introduce you to the team-mate of the hooligan from the previous post – the beautiful Alex, who has long become an icon of women's football. Also a member of the US team, the Olympic Lyon striker, 2012 Olympic champion, 2015 world champion and 2011 vice-champion of the world – it's all about her. The girl in her 28 years has achieved a lot in the sports field, but is not going to stop there, continuing to play her favorite game.
Links to social profiles: https://www.instagram.com/alexmorgan13/ and https://www.facebook.com/AlexMorganSoccer/.
On this, perhaps, we will end. The footballers shown by us truly deserve the title of the best, not only because of their beauty, but also because of their excellent sports achievements. If we have not noted someone, unsubscribe in the comments and, perhaps, in the next issues we will mark new contenders for the title of the best football players.