Yes, the era has come when football is leaving after modern sports technologies. Now you have to get used to various innovations, among which will be the Adidas ACE 16+ Purecontrol Primeknit football boots. What's so special about these new boots? In addition to the fact that they combined many of the company's advanced developments, their main feature was the absence of laces. Once upon a time, other manufacturers of football equipment tried to implement a similar thing, but only Adidas managed to do this with the utmost quality, which was appreciated by top football players from various world championships.
https://www.youtube.com/watch?v=32BgRIt3IY4
The main task of the novelty
If you describe in a few words the main task of ACE 16+ Purecontrol Primeknit, it would sound like this: control of the game even at the highest speeds. The total ball control offered by the new Adidas football boots is also the ability to deliver the most precise shots possible with the slip-on Primeknit upper.
Features of the model
If we highlight the main features of the new model, then it is worth noting:
perfect fit of the foot, which is achieved through the use of Primeknit material, which perfectly adapts to the shape of the feet without the need to wear out the shoes;
hidden lacing for flawless ball control and explosive speed of the player;
PURECUT sock;
volumetric structure of the NON STOP GRIP material, original in execution, allowing for extremely precise control of the ball in any weather;
very lightweight sole, made using SPRINTFRAME technology, which guarantees the player's stability at the highest speeds;
a unique configuration of TOTAL CONTROL cleats, providing players with agility and stability on hard surfaces.
Of course, these are not all the technologies that the new Adidas football boots are equipped with, since a small collar for fixing the leg, a solid heel lock, a competent anatomical structure of the shoe body and many more technological details that together provide the player with:
perfect contact with the ball;
maximum comfort even at the highest gaming loads;
excellent ball control;
explosive speed;
complete safety.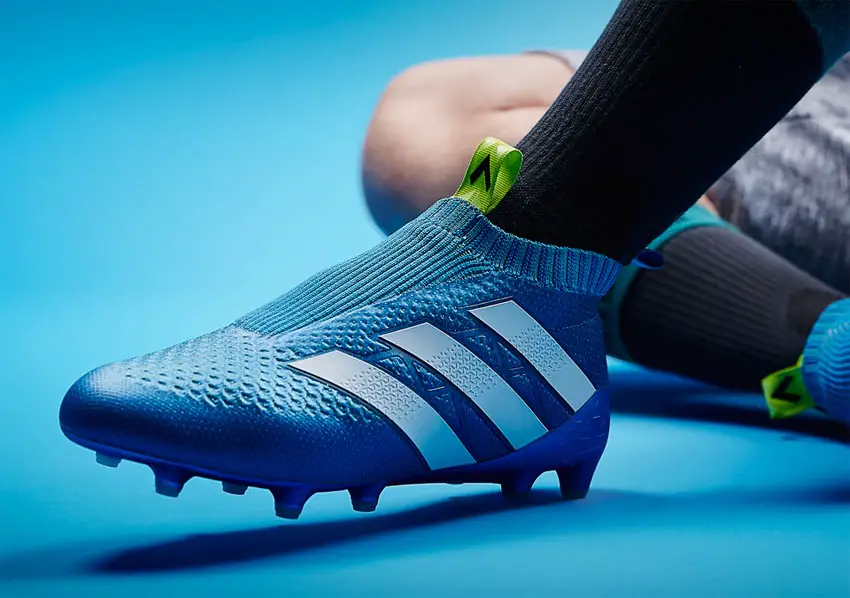 Well, and the last thing is the design of the novelty, which is striking. The look of the new boots is very challenging, which became possible not only due to the new shape, but also due to the bright colors, so each of their owners will be guaranteed to stand out on the field.
What can I say in the end? A worthy novelty worthy of attention. It is not for nothing that many famous football players chose it for themselves, who, we think, not only because of the contract with Adidas, wear them to this day. It's about convenience and the advantages that they give over their rivals.